Hello Protonians,
Welcome to Newsletter #38
This issue is again dominated by Metal Chain news. It may feel that the team focus is on Metal Chain but worry not, we know the team is working hard to deliver what's on the Proton roadmap. As far as we know DEX and DAO are in the pipeline with DEX coming first.  
Thank you for your support and have a great week!

Metal Blockchain
Earlier this week Marshall was on a LunarCrush live and as always it was a pleasure listening to him. We won't say anymore. Do not miss it!
---
You may have noticed by now but the Metallicus team added Metal Blochcain's native token METAL to Proton Swap & Farms. Now you can buy METAL in case you can't take part in the conversion event that will run till 27th Oct:
Another farming pair, METAL/BTC was added yesterday:
---
Also today, out of the blue the MEXC Global team announced they will list METAL /USDT spot trading pair on their exchange. Mind that MEXC is a top 20 exchange and there are now XPR, LOAN and METAL trading pairs! Well done team!
---
Will talked with Mickey from Veloce E-Sport for about 30 minutes on Youtube about the Metallicus branding. You HAVE to listen to this one. It's so easy to listen to Will as words come naturally to him, he's an amazing speaker and we (as a community) are so lucky to have him!
---
Proton
Proton DEX, is something we hear a lot recently and a big milestone in the Proton roadmap. Given the GUI is deployed on swap it makes us think that it might be released soon:
---
If you missed the announcement, there will be another episode of Web3StartHere tomorrow with Metallicus Global Director of Risk and Compliance with Incode. Although that's not the usual and as technical as the previous episodes, it will be interesting hear and learn more about compliance and how Metallicus team is handling it:
---
Proton Loan
We are in "hack season" as someone said on Twitter. The amount of bridge, wallet and oracle hacks is horrendous. ENTER Proton Loan.
Proton Loan is overcollateralized decentralized p2p lending application. Meaning there is no centralized entity that holds the funds but they are locked in the contract and managed by the protocol. You can't withdraw more than the available funds in the pool but you also need to put collateral to be able to borrow. Apart from that, the platform is amazing, it's easy to work with and very fast!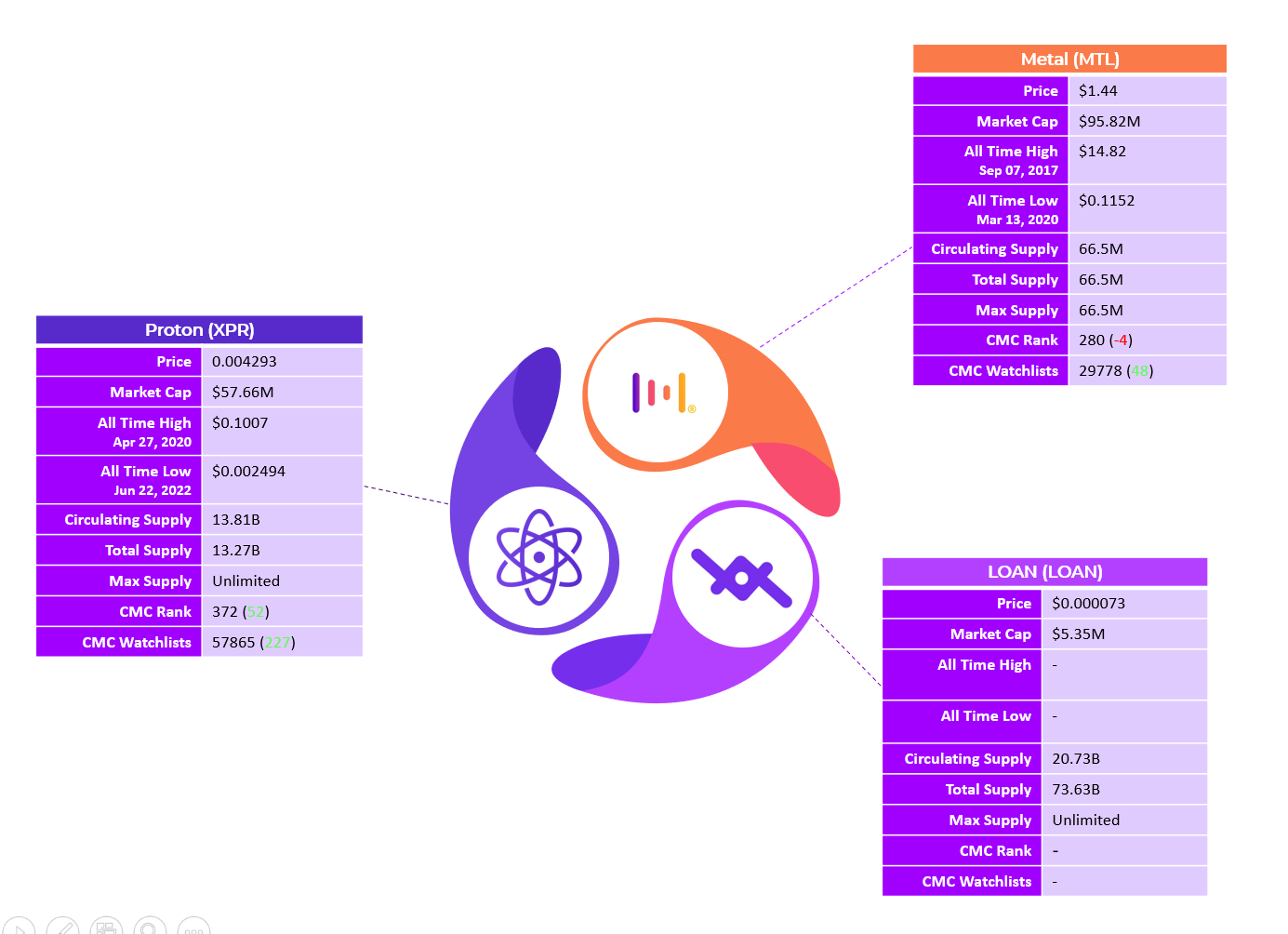 Proton and Metal data source: CoinMarketCap
Price change based on Sunday close price using latest data in range (UTC)
Loan data source: Protonscan (Alcor exchange + Protonswap)
Proton circulating supply is bigger than the total supply as the API accounts for what's circulating on Ethereum.


Here's just another piece of proof of how technology (crypto in this case) solves real-life problems. In that example user, Willem had to pull out some of the funds he lent on the platform but he could have borrowed as easy, fast and with no fees!
---
Any comments and suggestions are more than welcome. You can find us on Twitter, Telegram as well as Reddit. Thank you for supporting ProtonUK.