Hello Protonians,
Welcome to Newsletter #39
It was calm last week with the news slowing down a bit but there were some hints by the Metallicus team on making Metal Pay available in a new state (or country). We also shared a sneak peek of our real-time analytics application that we've been working on in the past couple of weeks that should be ready within a month.  
Thank you for your support and have a great week!

Metal Blockchain
This week we saw the team adding another farming pair, METAL/ETH to the farms:
---
Proton
The long-awaited web version of webauth.com wallet is HERE! It's great to see it coming to life after the mobile wallet was released back in December 2021. The team had this vision even before that, when the development of the new wallet started, perhaps this time last year. This is massive, it works out of the box and it allows you to do all the things that the mobile wallet does. It doesn't require browser extensions and it's very secure - no more passwords or hacks. You need to set up a device key to authenticate transactions, which could be Windows Hello, Touch ID, Face ID, Yubikey or Ethereum wallet.
---
Metallicus team also posted a summary of their recent announcements and this is just a reminder of their hard work. Keep in mind that Metallicus is a small < 100 people company and yet it delivers great products that are secure and ready for mass adoption.
---
Metal Pay
Earlier last week we saw some changes in the purchase limits and discount trading tiers in Metal Pay:
---
Irina (Metallicus CFO) tweeted a picture of potatoes and tagged Metal Pay in the tweet. The comments under the tweet seem to suggest that Metal Pay will be available in Ireland or Idaho but we are yet to find out:
---
Proton Loan
Here's a summary of Proton Loan since its launch (Jan 2022):
---
ProtonUK
We are proud to finally show a screenshot of our best product so far - a real-time blockchain analytics application. The application is coming along nicely and should be ready next month although we may release it earlier with fewer functionalities and add the new ones as they become ready. The application will have a dashboard with a summary of the chain and then separate pages with statistics on Accounts, Blockchain, Block Producers, Lending and Supply as well as block/transactions explorer and rich list: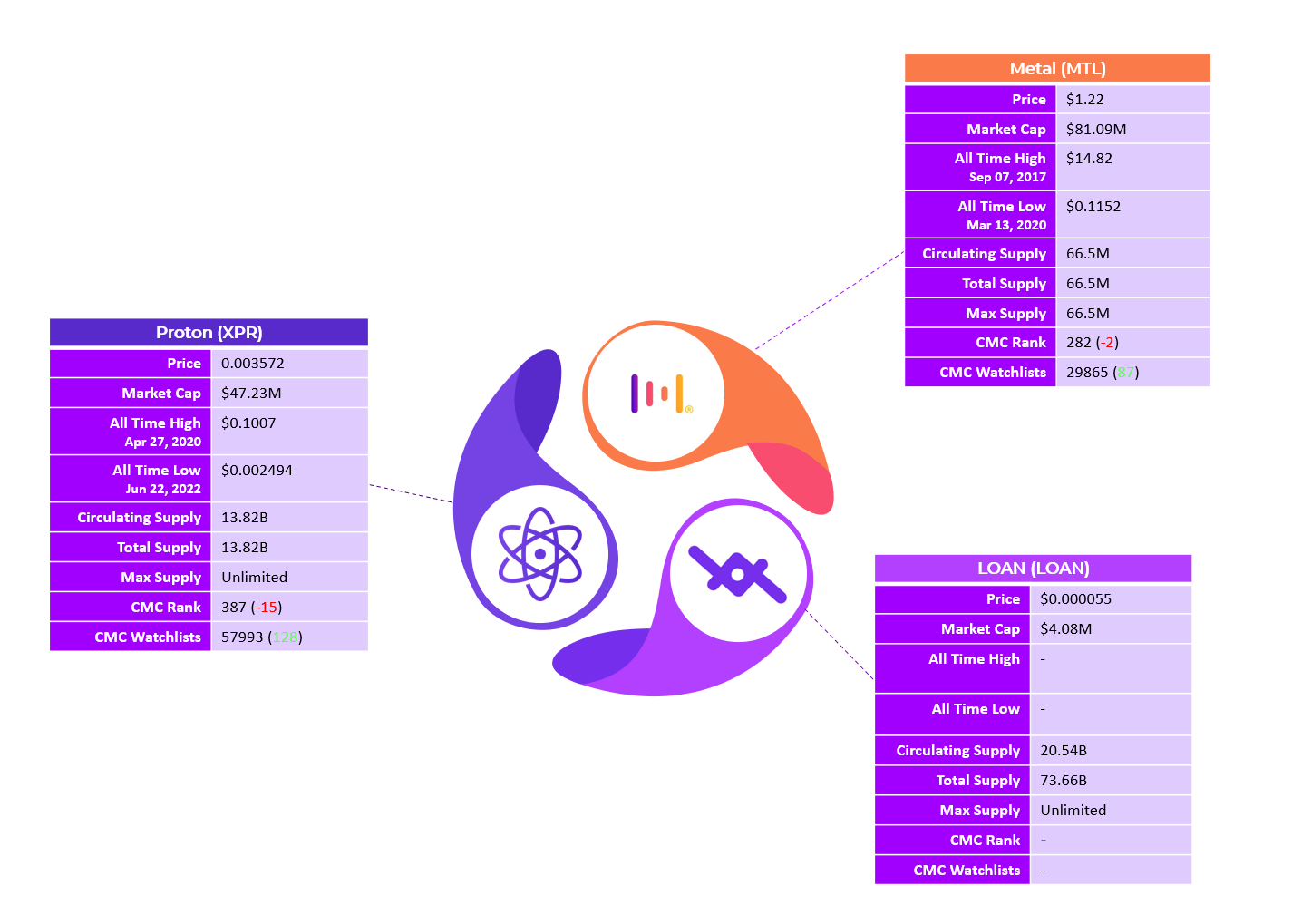 Proton and Metal data source: CoinMarketCap
Price change based on Sunday close price using latest data in range (UTC)
Loan data source: Protonscan (Alcor exchange + Protonswap)


Here we see Proton Lord's (Marlon) desktop with his ultimate Proton dapps suite running on Mac.
---
Any comments and suggestions are more than welcome. You can find us on Twitter, Telegram as well as Reddit. Thank you for supporting ProtonUK.