Hello Protonians,
Welcome to Newsletter #51
We've been away for a month but now we are back. We've been busy with some behind-the-scenes work related to server migration and consolidation. Our telegram services are more reliable now, our Hyperion service was rebuilt from scratch and last but not least we migrated all our nodes to Antelope 3.2.1 version.
That one month feels like a whole year in the crypto industry. So much happening with the Proton ecosystem that it is hard to keep up and pack everything in one issue. The Metallicus team has literally exploded over the past two weeks with constant releases of news. There was some news around integration with FedNow that disappeared shortly after but that was enough to get the attention of the users. All Metallicus telegram groups are definitely more active over the past week with Metal Blockchain increasing its members by almost 50%.
p.s. For some reason, the Twitter cards did not render correctly in our last newsletter. We've tested this and it seems to be working fine but should it happen again, please read the newsletter on our website by clicking on the title OR the "view online" text under the title.

Metallicus
We start with a short thread with recent media coverage featuring Metallicus:
---
In April the Metallicus team posted their first investors report which is an incredible piece of information since it gives us an idea of what the company is working on these days:
---
Marshall will be on Yahoo News next week so that's another episode not to miss!
---
Proton
We understand that the Webauth.com wallet is going through a redesign and it has its own Twitter account now. It looks very sleek and stylish, you can see some mockups:
---
The Metallicus team listed two more coins that users can now trade on the DEX - that's XDC, DOGE and HBAR:
---
There's a Proton roadmap now! We knew what the team was working on but what we didn't know is how much progress they made. Under each item you will find a percentage of how much of the development is complete but here's the summary:
Proton Governance Dashboard: 90%
Proton Vesting & Streaming Payments: 95%
Proton / Ethereum NFT Bridge: 75%
WebAuth Redesign: 50%
Other products and feature the team has been working on are a new website for Proton Blockchain (proton.org), Proof of Reserves & Liabilities Dashboard, a new push signing request (PSR) flow, ISO20022 Compliance Demo and Proton Invoicing. Read more about these below:
---
More than a month ago the Metallicus team announced a new grant program:
---
As always, the team did the quarterly burn at the end of Q1 and burned about 5M this time. Now, you may think that's not much but these are fractions of the fees on Proton Swap in a bear market. Imagine when Proton is widely adopted and we get a ton of users:
---
Earlier this week it was announced that going forward, Non-US customers will have to use a passport to complete their KYC process on the Proton Blockchain:
---
The Proton DEX API allows businesses or individuals to easily add trading features from Proton DEX into their platforms, like building bots that can automatically execute trades. The key advantage of the API is the variety of languages it supports: Shell, Node, Ruby, Php, Python, C, C#, C ++, Clojure, Go, Https, Java, Javascript, Kotlin, Objective-C, O-Caml, Powershell, R, and Swift
---
And because that wasn't enough they also released Grid and Market Marker bots:
---
In the meantime the Proton DEX got two minor updates as well as its fees reduced:
---
You can now also mint XMD directly on Proton DEX:
---
The Metallicus team is making progress with the development of Proton on Metal Blockchain. They don't give an ETA of when Proton will be live on mainnet but it's already on testnet and new features are being added all the time:
---
Last but not least the Metallicus team released Dogecoin DEX (SuchDEX.com) on DOGE's birthday that is based on Proton DEX source code:
Metal Blockchain
Metal Blockchain got a new fancy website:
---
Metal Blockchain was featured in the J.P.Morgans U.S. Mid- and Small-Cap Banks Crypto Banking Bi-Weekly newsletter. The team confirmed that it was not a sponsored article but organic and it's great to see the blockchain is getting traction and attention from well-known names in the space:
---
Make sure you check the blog section of Metal Blockchain for some really good articles on how Metal Blockchain operates:
---
We know the team is working on getting webauth.com wallet to work with Metal Blockchain as well as allow users to stake their METAL:
---
---
Metal Pay
Finally, the Metal Pay website gets a new fresh look that is very clean and modern:
---
This certainly falls under the Proton section but Metal Pay is slowly moving to being powered by Proton DEX. That is a win/win since users of Metal Pay can enjoy the DEX features and this will also increase the users and volume of the DEX.
---
We saw the initial UI designs of Metal Pay 3.0 in the Investors report but the blog post below gives us a bit more insights:
ProtonUK
To celebrate the 3rd anniversary of the production of the first block on Proton Blockchain we gave away 600k XPR to 6 lucky winners!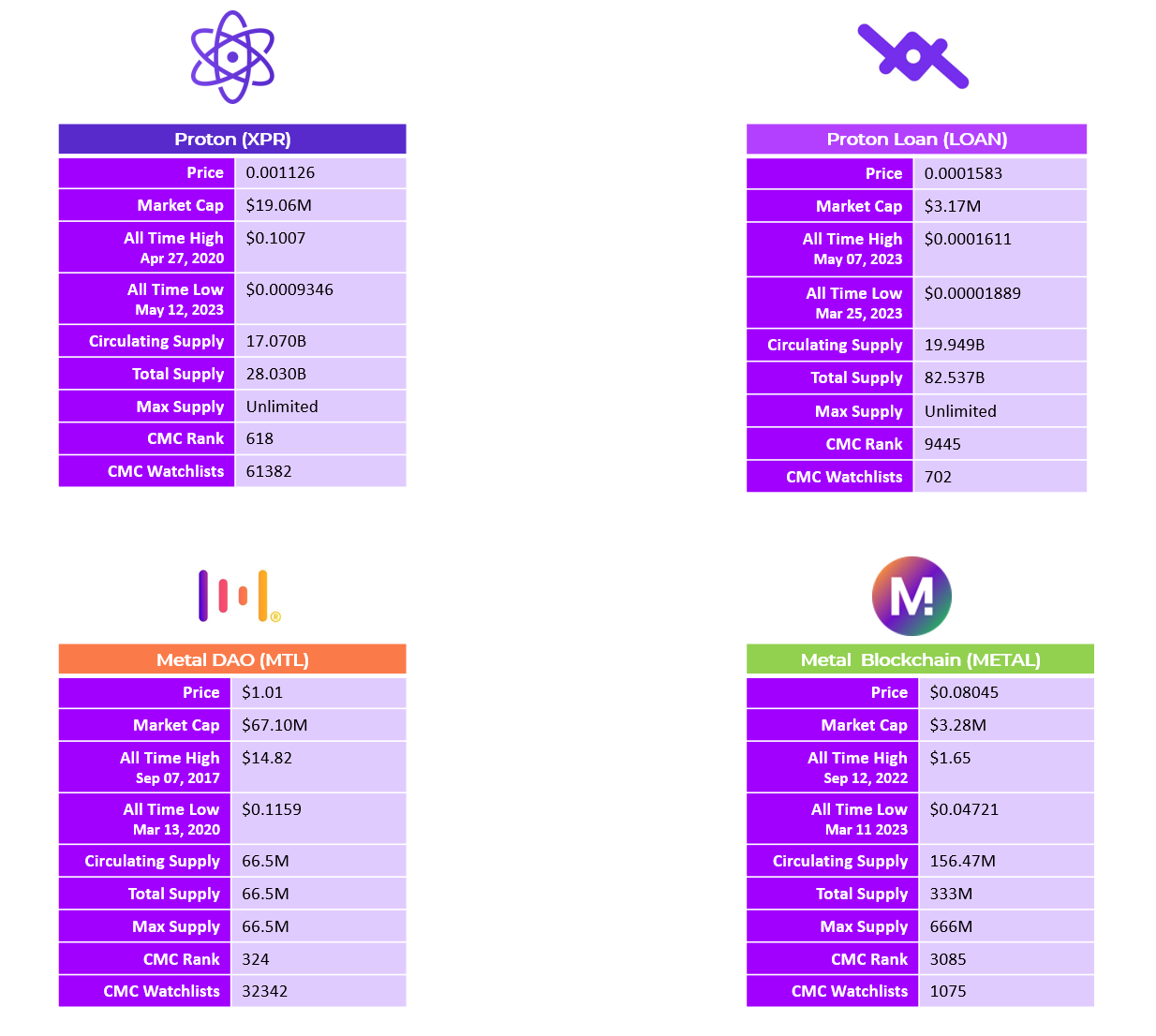 The Metallicus team is on fire, they released so much stuff only last week that it is hard to follow. Marshall was kind enough to summarize this over Twitter:
---
Any comments and suggestions are more than welcome. You can find us on Twitter, Telegram as well as Reddit. Thank you for supporting ProtonUK.