Hello Protonians,
Welcome to Newsletter #50
This is a BIG milestone for us with the release of issue #50 of our newsletter. We started the newsletter more than a year ago with the idea to provide the community with news and insights from the Proton ecosystem. We are very excited about the future of Proton and we look forward to the next 50 issues of our newsletter.
The other BIG news is the formation of First Blockchain Bank & Trust (FBBT) co-founded by Marshall Hayner and Irina Berkon, which will acquire the 100-year-old State Bank of Nauvoo (subject to regulatory and shareholder approvals).
And another big milestone for the Proton ecosystem is passing the proposal to double the supply to 28B to secure funding for marketing, developer grants and the core developer (Metallicus) over the next three years.
As always, thank you for your support!

Metallicus
We start with the awesome news of the formation of FBBT Holdings and the plan to acquire the 100-year-old State Bank of Nauvoo (subject to regulatory and shareholder approvals). This has been their long team vision and plan, something we heard about two years ago when we first found Proton.
---
The Metallicus team announced they have entered into a strategic partnership with KaironLabs to bring more liquidity and trading volume to ProtonDEX
You can read more about it here and you can listen to episode 19 of the Metallicus Live podcast with Matthew Engel & Karl Straky on Making Markets with Kairon
---
If you for some reason missed any of the Metallicus podcasts you can listen to them on Youtube. They have arranged them in a nice playlist that one can easy to follow and navigate:
---
There's also an upcoming episode of Metallicus Live that is not to be missed. The guest of the show will be the crypto news journalist Eleanor Terrett from FoxBusiness:
Proton
You should know by now but if you don't, the Metallicus team proposed to double the XPR supply which was approved by the majority of block producers and accepted. Read more about the proposal and what it means for the future of the Proton blockchain below:
---
Proton XPR is now tracked on DeFi Lama:
---
The team released a minor update to the wallet:
---
Also last month the team announced the addition of a new farming pair - METAL/XMD:
---
It is with great pleasure to share with you the news of a new NFT marketplace is released on the Proton Blockchain - Digital Galaxy:
---
Ubitquity has officially chosen Proton Blockchain for their Non-Fungible utility token:
---
Earlier this month the Metallicus team released an update on Proton Fiat and that they are temporarily disabling the on-ramp feature because their partner third-party wire APIs are discontinued by Silvergate Bank:
Metal Blockchain
Metal blockchain added 10 more validators since our last newsletter!
Metal Pay
Metal Pay is expanding and is now available in Louisiana:
---
The Metallicus team also addressed users' concerns regarding the recent events with the Signature bank:
Proton Loan
The Metallicus team continue building their brand and released another set of videos to demonstrate the beauty of Proton Loan and how easy it is to work with:
ProtonUK
There's always a challenge if you are a developer or a block producer to find the active API endpoints and P2P nodes on Proton Blockchain - not anymore! We have added two buttons on top of our Proton Live block producers page so that you can get a list of the active APIs or P2P nodes:
We also made a few updates to our Proton Live telegram service: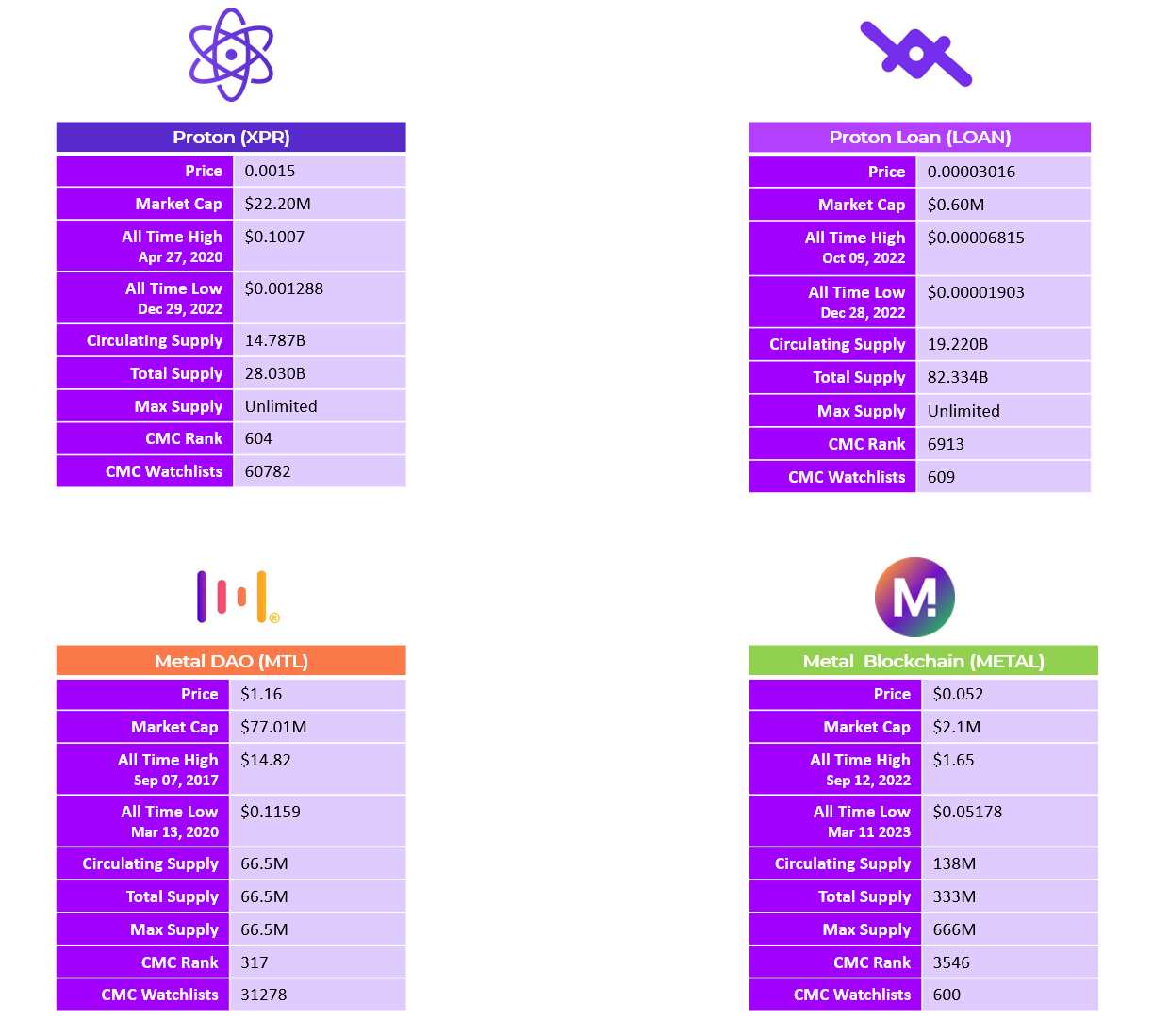 In other news - Marshall is now on TikTok 😀
---
Any comments and suggestions are more than welcome. You can find us on Twitter, Telegram as well as Reddit. Thank you for supporting ProtonUK.