Hello Protonians,
Welcome to Newsletter #22
Another big week for Proton! Following the release of Global KYC and many fiat release hints, we finally saw the release of Proton fiat integration this week. This is a significant milestone as with its release the current roadmap is complete and we expect to see a new one soon. The team mentioned multiple times that they might not give timelines anymore which some of the community members don't like but over the past year, we see that the Proton team is very persistent and delivers.
Thank you for reading and enjoy the weekend!

Proton
We start with the BIG news this week - the long-awaited release of FIAT on-ramp, allowing users to deposit fiat money and receive XUSDC in their wallets. There is a flat $20 fee which is a bit steep for some users and while this is not attractive for small transfers it's the lowest fee for bigger deposits. Some exchanges are charging a 2% fee which is a lot, imagine depositing $100k, it would cost you $2k with some exchanges and only $20 with Proton.
There is another important point - KYC and fiat on-ramp are two very important parts of the ecosystem. Proton is almost self-sufficient now, you can be verified on the chain and deposit fiat money, off-ramp is not available yet. Also, it's great to see the things Marshall talked about more than a year ago coming to life, all this is part of the bigger picture and we are so fortunate to be part of it.
If you still think $20 is a lot remember there is Metal Pay which offers fee-less bank transfers. You can deposit your fiat money in Metal Pay (or even get your monthly wage), buy USDC and send it to your Proton Wallet as XUSDC, amazing!
Marshall also hinted that we may see actual physical cards and now that would be awesome!
Well done Proton team! Thank you for the hard work! We are proud to support the Proton Chain and be part of this magical journey.
---
Remember the Web3 Start Here billboard in San Francisco (and around the world) that was stood up a few weeks ago? Well, it looks like one user who referred a business to Proton may get lucky and receive the $5k reward for that. We think it's great that the Proton team took the time to follow up on this incentive and provide more details:
---
With the US tax return deadline approaching, we finally got the TaxBit integration with Proton and users can now get a report of their transactions:
---
Metal Pay
Some exciting news for Metal Pay this week. The team partnered with Evoshare allowing Metal Pay users to get paid in cryptocurrency whenever they shop at 10,000+ merchants and over 700,000 hotels:
---
We haven't seen a listing for a long time and earlier this week the team announced that MTL is now listed on another exchange:
---
Here's another cheeky incentive by the Proton team. They created a Bitcoin hotline. You call the number and you get a message with instructions. You follow the link to Download Metal Pay, complete our verification process, and when successful your account will be credited with $5 in Bitcoin. How cool is that!
Here's Irina at Bitcoin 22, promoting the Bitcoin Hotline:
And similar one from Will:
---
Not much for Proton Loan this week. Hopefully with KYC and fiat delivered the team can now focus on the governance dashboard. As for the TVL, it to $30M earlier this week.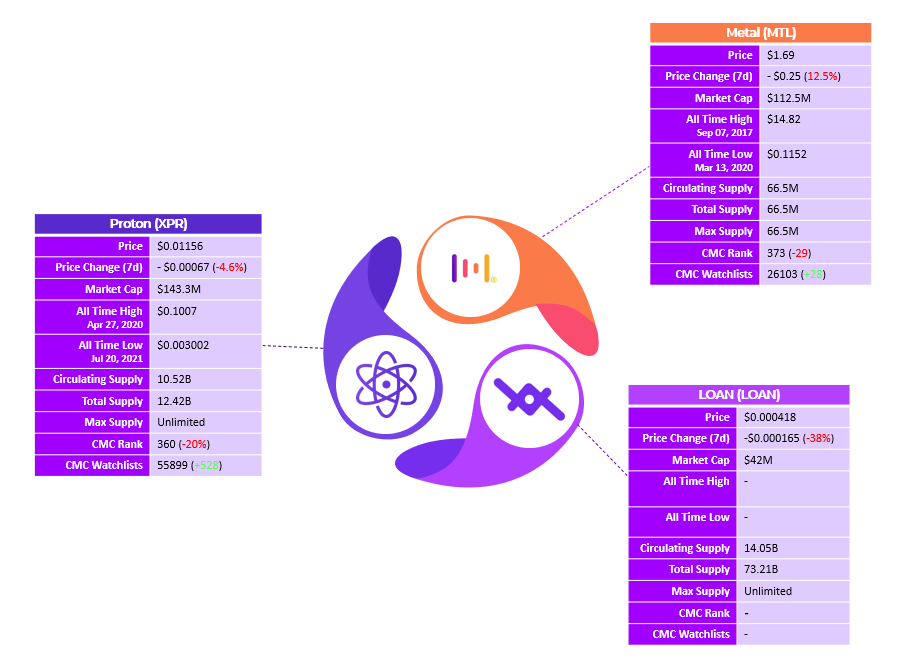 Proton and Metal data source: CoinMarketCap
Price change based on Thursday close price using latest data in range (UTC)
Loan data source: Protonscan (Alcor exchange + Protonswap)


This week's Tweet of the week goes to Marshall again and doesn't need a description at all:
---
Any comments and suggestions are more than welcome. You can find us on Twitter, Telegram as well as Reddit. Thank you for supporting ProtonUK.