Hello Protonians,
Welcome to Newsletter #6, the week of Proton!
What an amazing week for Proton, we got so much news coming out from the Proton team this week that it's starting to feel like Christmas. The next issue will be published as per the schedule, next Friday (Christmas Eve).
Enjoy the weekend and thank you for reading.

Proton
We start with the BIG news this week - the release of the new Proton Wallet.
After going through the Twitter thread I strong recommend you read this amazing blog post, explaining what webauth is and why the name change:
Also, take the time to read this blog post from September 2021 that introduces WebAuth protocol:
In short, WebAuth.com is the new industry standard for device authentication, identity management, payment processing, and cryptocurrency transactions for Web 3.0 that is built on the Proton blockchain. Proton team also confirmed that in Q1 2022 will be rolling out a new version of the web wallet, which will look and function identical to the mobile wallet. This will bring cohesion to the wallet line, with the exact same look and functionality across Web, iOS (iPad too), and Android. The team also hinted we might get similar looking desktop wallet for macOS, Windows and Linux native.
I think that's a great move for the Proton team that wants the world to associate the WebAuthN technology with Proton. WebAuth is so much more than just a wallet. I'm sure a year from now no one will remember the old wallet or have anything against the new name.
💡
Here are a few important things you need to know about the new WebAuth.com wallet
The new wallet is based on React Native. It feels and looks so much better now but also very fast. How can we not love it!
With a common code base for iOS and Android, we get the exact look and feel across both platforms as well as new releases on both platforms at the same time.
The new wallet supports multiple accounts now. Click on the profile icon at the bottom to create a new account or import an existing one.
You can now hide zero balances. Click on the three dots on the right-hand side of Assets and click "Hide zero balance assets".
There is no more endpoint tinkering, they are selected automatically for you.
There is no more in-app swapping, instead, you are taken to Protonswap.com. This made it easier for the team than adding that all into the UI and helped to launch quickly. Since the wallet is more than an ordinary wallet it makes sense, protoswap is just another dapp running on the chain so why support two code bases when protoswap works perfectly already.
The new wallet has another great feature - Exchanges tab when sending XPR to a mainnet exchange. You don't need to type the exchange name anymore, they are all preselected and verified for you. Remember that you still need a memo!
You may have noticed that if you backup your private key in the new wallet it looks a little bit different. Worry not, this is the same key in a different format.
Creating an account on the new wallet will now give you a 12-word recovery phrase and you need to take a note of it as you are asked to confirm it on the next page! Essentially this is now enforcing users to take a backup of their single most important key.  You can still backup your private key later on.
How to migrate to the new wallet:
Download the new wallet, you can find shortcuts here https://webauth.com/
Make sure you leave a positive review!
To migrate to the new wallet you need your Proton Wallet private key. Go to Proton Wallet -> Profile icon bottom right -> Backup key. The one on Google Drive is a hashed backup and cannot be used.
Once you migrate to the new one make sure you can sign transactions. Backup your private key and delete the old app.
The private key might look a bit different on the new wallet but that's the same key, just a different format.  
New Introduction to wallet 2.0 blog post is in pipeline now and will be published when ready.
What's next for Proton?
So with the new wallet out now what's next in the pipeline? Marshall was kind enough to share this over Twitter:
From what the Proton team shared on Telegram and Twitter, we know that LOAN audit is complete and the team is now working on fees calculation, fiat and global KYC.
Token burn
Earlier this week we got another token burn of about 4.4M XPR bringing the total amount of burned XPR to 12.3M:
USDC over Stellar
We also got to deposit and withdraw USDC over Stellar now. It's available on Protonswap and the new wallet already.
Metal Pay
What a week! Metal team added more coins to Metal Pay, four coins on Monday and five more just before publishing the newsletter. It may seem like the team is focusing on Proton only but the reality is that they work on many products in parallel - this year they got two new state licenses, Europe banking partner, EU EMI license, new custody and identity providers, added 17 new coins within a month and all that while working on the banking application!
Charity
Now here is something we don't see every day in the crypto world. Metallicus donated $100k in the form of XPR (about 6.5M)  to the Independence Historical Trust to help restore with the First Bank of the United States:
The local news station covered the story as well, read more here:
The $100k donation came out of the company treasury wallet. Shortly after, Marshall and Irina also contributed from their personal wallets. Other users including a few block producers followed their example. Proud to say that ProtonUK also contributed with 10k XPR: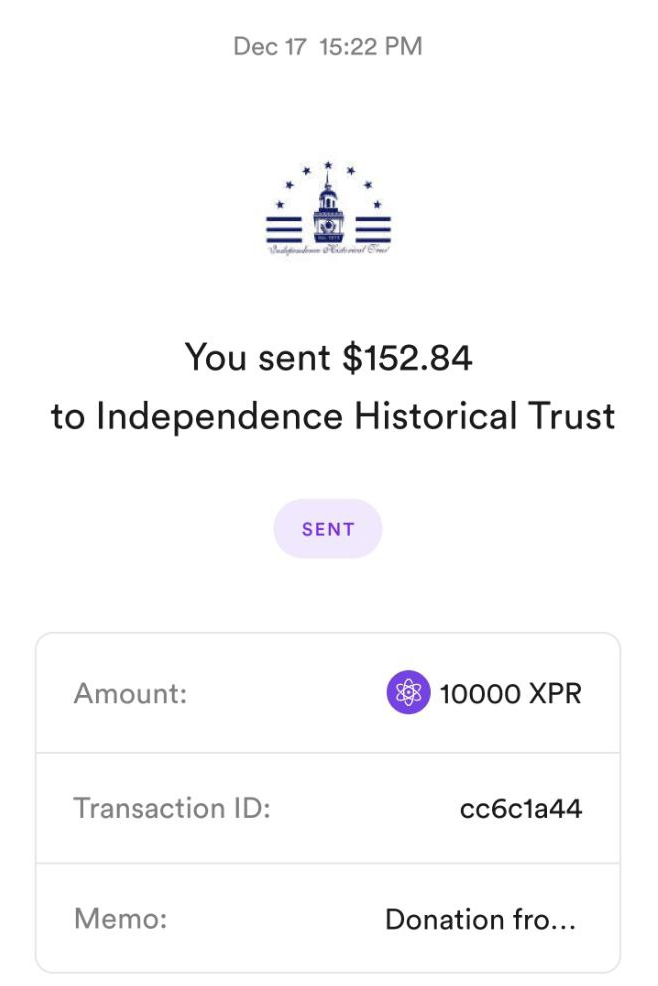 Find the Independence Historical Trust wallet here.
---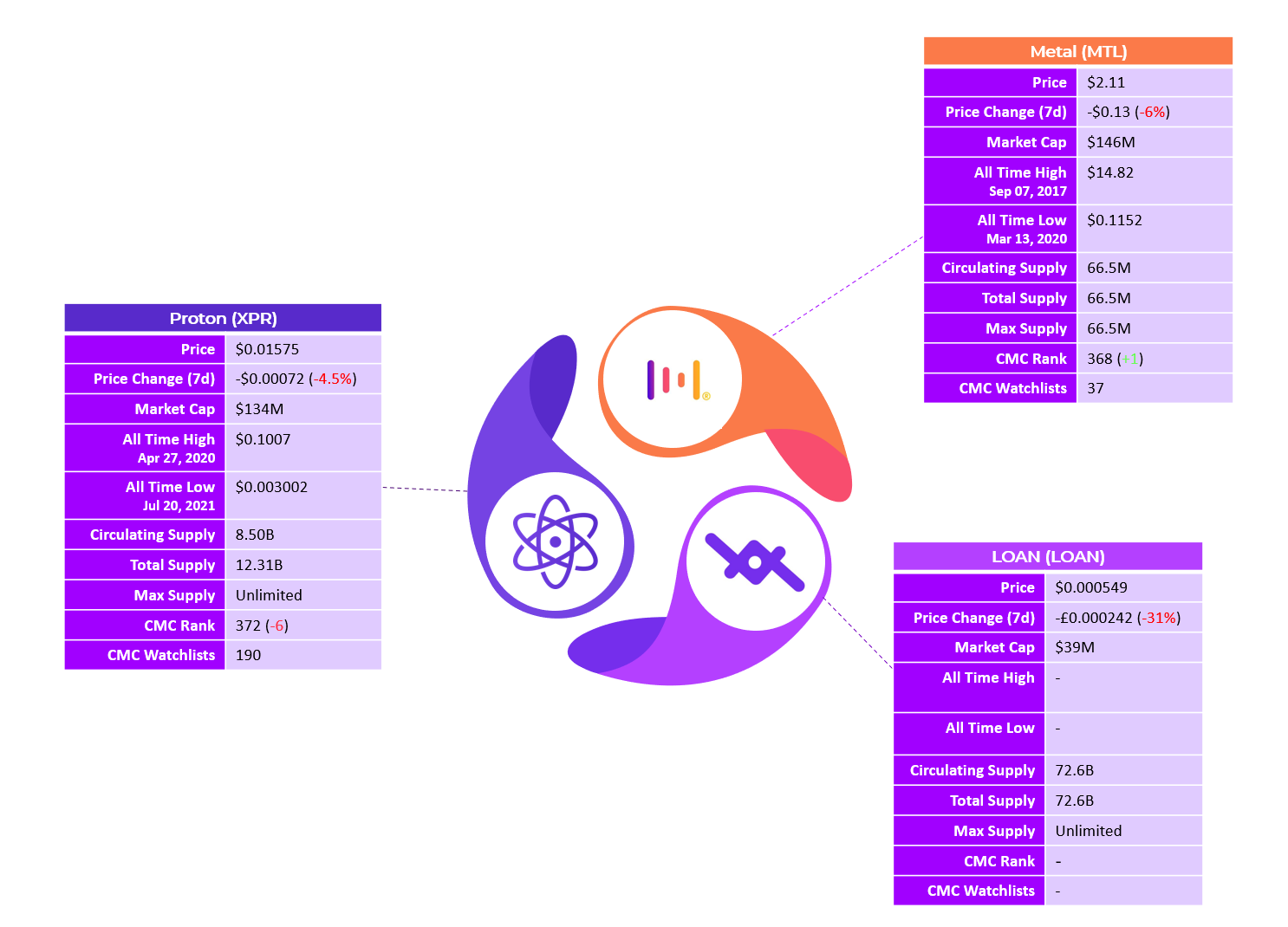 Proton and Metal data source: CoinMarketCap
Price change based on Thursday close price using latest data in range (UTC)
Loan data source: Protonscan (Alcor exchange only at the moment)
Following CMC glitch earlier this week the watchlists of all coins have been wiped out.


This week Tweet of the week goes to Will, Proton new marketing lead. In his LinkedIn profile, he shared that he no longer works for Abu Dhabi Motorsports Management and is planning his move to Toronto, Canada now.
In the meantime, he's already warming up with catching Noel's Mack attention with this amazing 3D NFT. Noel is the Chief Brand Officer of Gymshark. Well done Will, have an amazing Christmas and see you in January!
---
Any comments and suggestions are more than welcome. You can find us on Twitter, Telegram as well as Reddit. Thank you for supporting ProtonUK.