Hello Protonians,
Welcome to Newsletter #13
No doubt everyone was very excited to see Proton price increase over 30% this week but there are other things to get excited about too. We've tried to capture and summarize the most important of this past week and deliver it straight to your inbox for another week.
Enjoy reading and thank you so much for your support!

Proton
We couldn't be more excited to get an update from Will on what he's cooking: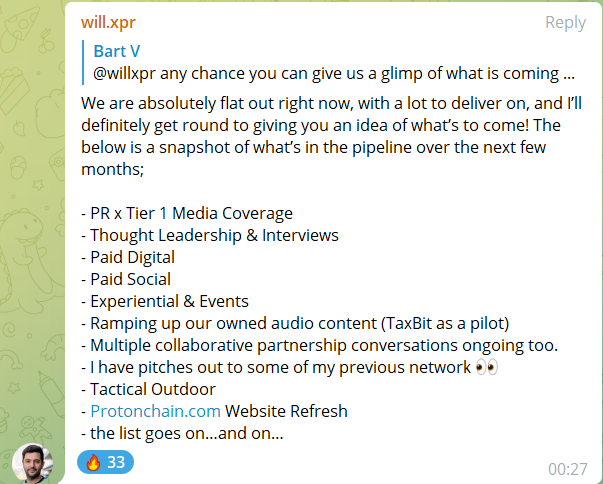 Just look at all the incentives he's working on at the moment, there's so much coming in this year!
---
Surprisingly, today someone posted this on Telegram, can't recall seeing this before but it looks like XPR is now tracked on Binance: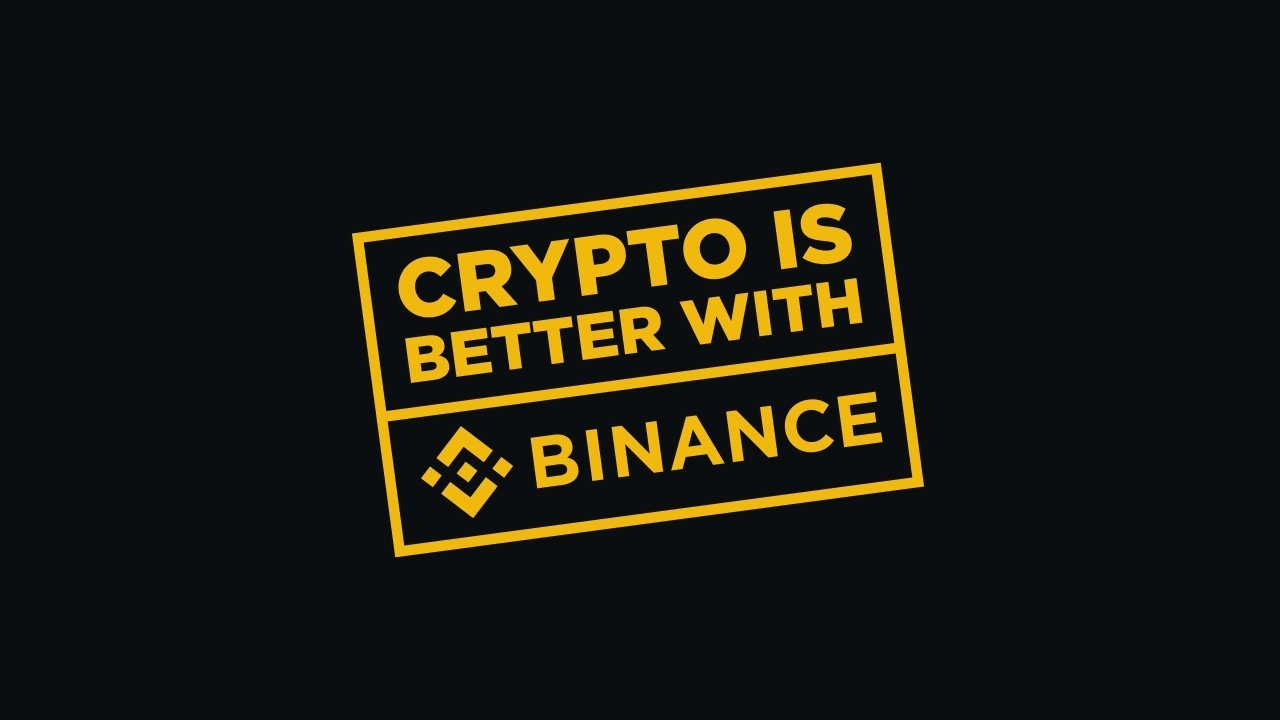 ---
If you missed hearing Proton CFO Irina Berkon discussing crypto and taxes with TaxBit on Twitter earlier this week you can now listen to the recording:
Metal Pay
Metal team announced that they've earned a Money Transmitter License for two more states this week: South Dakota and Alabama
---
Proton Loan
If you haven't gotten into the specifics on Proton Loan here's a great opportunity to do so. In this 20 minutes video, Syed Jafri, Proton VP of Engineering explains how Proton Loan works and how things operate on the backend:
---
NFTs
It looks like ProtonMint is on fire these days as they continue to bring new features to the platform and released another major update earlier this week:
---
Meet the NFT artists
Proton NFT community exploded over the past few months in terms of volume, artists and presence. We'd like to support the artists that chose Proton to list their artwork and feature them in the newsletter, here's the first one.
Who is DŔâĠőŇ™ ?
My real name is Clive and I live in the United Kingdom in a county called Kent.
What do you do?
I am a project manager for a global organization however I have a keen eye for NFTs and am addicted to Dragons as it shows with my successful NFT Artwork also am fully verified on ProtonMint.
Why did you choose Proton to list your NFTs?
The reason I chose Proton was because of the 0 fees and fast transactions with multi-currency offerings within the app. Also, the marketplace to list at Proton Mint was evolving and the community are what made me choose to remain exclusive to Proton.
If I was new to your Art what would you say is your best collection?
I would say there is two, one is the Dragon Creations which is where it all started, this included the Angry Series and Mosaic Emoji art.
The other is the Mythical Creatures which has a passive income rewards program for any holders of these NFTs with some set to receive a pay-out for one month of $368.
You can view my artwork here https://protonmint.com/user/dragontm
Please contact us if you want to be featured in the newsletter.
---
ProtonUK
We are very proud to be among the top 5 most voted block producers on Proton Chain. We couldn't do it without your support. Thank you so much!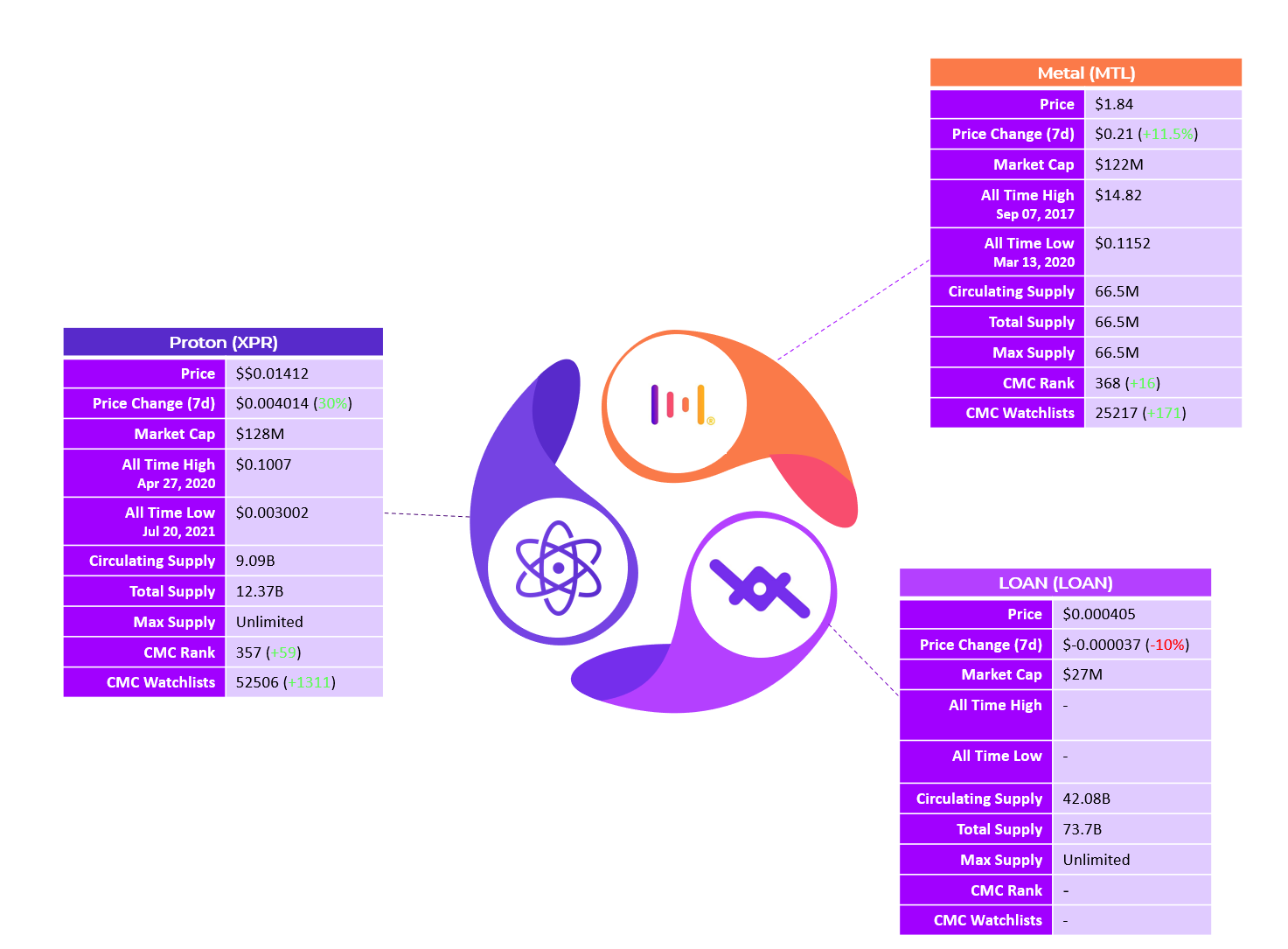 Proton and Metal data source: CoinMarketCap
Price change based on Thursday close price using latest data in range (UTC)
Loan data source: Protonscan (Alcor exchange + Protonswap)


Here's a tweet by Crypto Cyclops asking Marshall if there are plans of bringing physical debit cards to Metal account holders and Marshall responding Yes! Now, imagine getting your wage in Metal Pay where you have recurring buys and Proton mainnet support. Soon you'll be able to report your tax using Taxbit. Hopefully xwrapped tokens soon and Metal Pay running on Proton Chain one day.  That's what we mean when we say Proton is a whole ecosystem. One day we will have all our funds, crypto or fiat in Metal custodial and non-custodial wallets.
---
Any comments and suggestions are more than welcome. You can find us on Twitter, Telegram as well as Reddit. Thank you for supporting ProtonUK.