I often see people asking "Wen marketing?" in the telegram group and decided to expand on this a little bit.
Let me tell you a story. A story about two of the greatest music festivals of all time and how they became famous across the world - Tomorrowland and FYRE.
FYRE festival
The festival was an idea of two people Billy McFarland and rapper Ja Rule. In 2017 they wanted to organize a luxury music festival on Bahamian island to promote the company's Fyre app for booking music talent. After massive advertising featuring supermodels including Kendall Jenner, Emily Ratajkowski and Gigi Hadid the Fyre Festival promised "the culture experience of the decade" in a tropical wonderland of yachts, villas, and gourmet cuisine. The team shot a festival trailer in the Bahamas with all the supermodels of what the festival will look and feel like. The PR agency they hired got about 400 influencers (yes, that's right!) to post on their social media accounts an orange square representing the festival colours, all at the same time and that must have had a massive audience.
The festival was scheduled for two weekends in April and May 2017 with tickets selling from $500 to $1500, and VIP packages including flights and luxury tent accommodation for $12,000. Customers were promised accommodation in "modern, eco-friendly, geodesic domes" and meals from celebrity chefs. The final advertised line-up was for 33 artists. No doubt all these glamorous ads and price packages tempted many people. According to Wikipedia, about 5000 tickets were sold at the time.
But then it went all wrong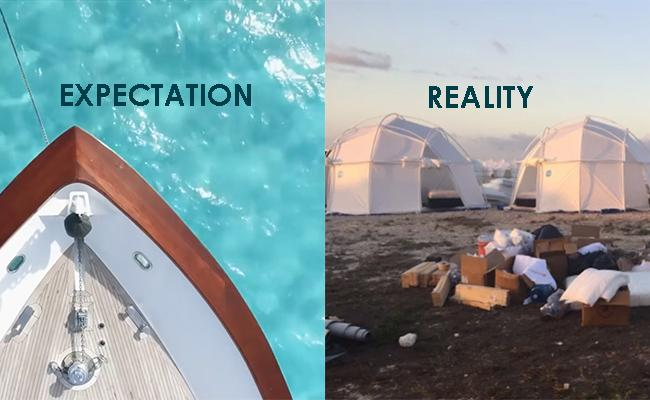 I think it's apparent from the video below that this is no festival but a call for survival:
The festival was a complete fail. The main driver of it, Billy McFarland, at the age of only 26 at the time had no experience at organizing such events, he believed he could make this happen regardless of the many professionals telling him an even of this scale takes a considerable amount of time to plan and deliver. He decided to go with the festival and it was an absolute disaster with soaked tents and mattresses, no locks for the lockers, lost luggage, no music, no food or water. After a series of mistakes and poor decisions, the festival was cancelled on the day. In October 2018, McFarland was sentenced to six years in prison and ordered to forfeit US$26 million
Anyone interested to know more I recommend watching Netflix's Fyre: The Greatest Party That Never Happened
Tomorrowland festival
Now, Tomorrowland is my all-time favourite festival and one that I have been fortunate to attend three times. Tomorrowland is an electronic dance music festival held in Boom, Belgium since 2005. Starting as a small local festival it became the biggest and most popular EDM festival of our time. In its second year, it caught the attention of big names like Armin Van Buuren, Axwell and David Guetta who performed at the festival. Over the next years, the festival started to build up with 50k visitors attending the festival in 2008, about 90k in 2009 and 180k in 2011 which became the limit of how many people the festival can accommodate over the next few years.
With technologies developing and organizers coming up with new ideas the following years Tomorrowland became extremely popular across the world. The aftermovies of each year's festival were so professionally done and captured the experience of the festival so good that anyone watching it would want to go, this was the case with me after watching the 2012 aftermovie and to this day I believe it's one of the best Tomorrowland aftermovie they produced. The Festival was so popular that in 2013 they sold out literally in one second. With about 2M people queuing and only 100k tickets available, that is no surprise.
The success of Tomorrowland is no coincidence. The organizers ID&T are veterans in these events, founded in 1990 they already run a similar festival in the Netherlands called Mysteryland dating back to 1993. The Tomorrowland theme was always very magical, the team would spend most of the year planning the storyline of next year festival and come up with the decors. A month before the festival they start to build up the 12 stages, temporary accommodation, facilities and all the infrastructure supporting the festival. The organization is just out of this world. With about 15000 people staff it's hard to imagine what does it take to plan and organize an event of this scale. Being there three times, I must tell you that they have thought of every little detail - everything is contactless, there are lockers, there are portable charges, running water, medical teams and many more teams looking after the production. They even build a small village where you have a hairdresser salon, supermarket, tattoo shop and merchandise shop. It's amazing.
Here is how it started and how it looks nowadays: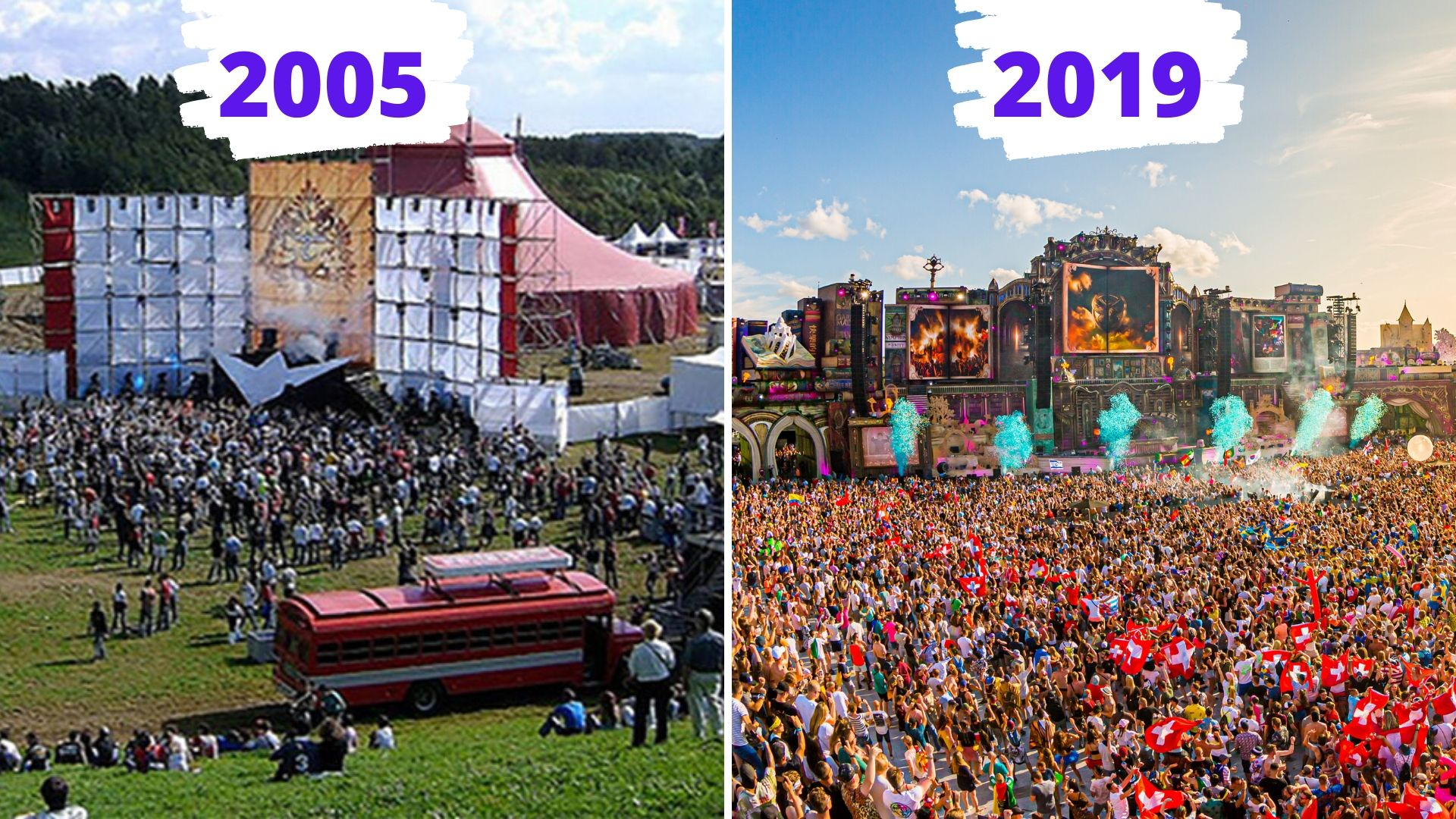 You can see the progression and build over the years: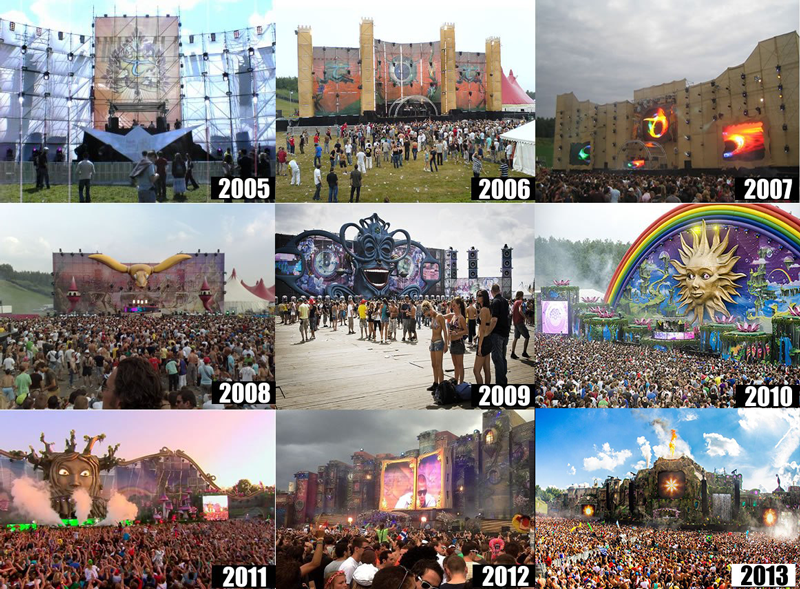 It is by far the best festival I've been to and one I want to attend again.
Conclusion
Now, why did I tell you all about Tomorrowland and FYRE festivals? What's the connection between both? Well, both festivals invested massively in marketing that is for sure.
FYRE promised the greatest festival, one not seen before, it involved the world most-known social media influences. The only problem was that they didn't have a product ready or plan how to deliver it and even so they decided to go on with the festival.
Tomorrowland on the other hand grew organically over the past 15 years. The moment the festival is over they start planning the next year festival. They also spend a lot of money on marketing, that is the production of after movie, all the stages, all the photographers, live stream from few stages. However, unlike FYRE, Tomorrowland has been doing this for years. They know what it takes to be done and how to do it and most importantly how to deliver it an evens of this massive scale.
When people ask "wen marketing" they need to know that we must have a complete product before any marketing. We need a usable and easy to use wallet, we need to make crypto more accessible to end-users, that is either by linking your card or sending money to a bank account and getting them straight in your wallet. New users don't want and find it hard to sign up to a CEX, do a KYC, buy USDC and pay $20 to send them to Proton Wallet. It was Marshall's vision that crypto should be easily accessible and user friendly.
The Proton marketing lead started in August earlier this year. Things are in motion. Let the team do their work and worry not that when the right time comes, the marketing will be in place.